Porthleven And Cornwall - Readers Write
Your contributions on the subjects of Porthleven and Cornwall are welcome. I will try to publish pictures or comments is they are relevant to this website. Please email me the details of your contribution that you would like to see published.
Porthleven And Cornwall - Readers Write:
My Thanks To Jerry Bradshaw for sending me these great pictures of the rescue helecopter taken at Porthleven Lifeboat Day in 1999. The pictures were taken from the An Mordros Hotel. Jerry has been visiting Porthleven for 20 years and says he has lots of other photographs of Porthleven which I have urged him to send in. Please click on images to enlarge:
My thanks, to everyone that has used this website. I launched www.porthleven-online.com on 15th February 2006 and at 9th April 2006 it had received over 200,000 hits. A big thank you. Neil Smith.
Many thanks to Ken Perks for providing me with pictures of Porthleven Lifeboat Day. Please follow this link Lifeboat Day to see these pictures.
Also Ken Perks supplied the following pictures of Trewavas Head and the mines near Porthleven. Click on either to enlarge: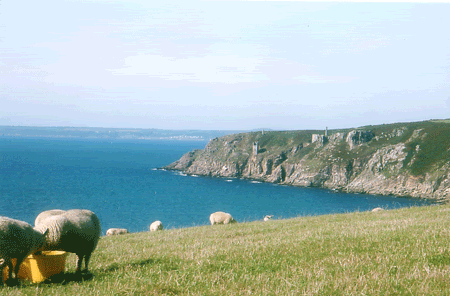 My thanks to Brenda of Bloomsberry Flowers of Fore Street, Porthleven in Cornwall for the following article from Packet News:
A Step Back In Time: How Tiny Port Leuan Became Porthleven
In the 16th century it was aclled Port Leuan, a small cove situated between the villages of Breage and sithney. A tree-lined valley, with a river flowing through its marshy bottom, led down to the cove but there was nothing to suggest the thriving community that exists today.
In the early 18th century, legal documents were in existance referring to the cove as Port Leuan. derived from the Celtic saint, St. Elvan. Before Porthleavan (the original spelling) was adopted as its name, the hamlet which developed in the cove was known as Torleven.
Fishermen, farm-workers and miners formed its earliest community, the latter mining silver from mines near Loe Bar. They lived in cottages round the cove, but it was the building of the harbour in the early 19th century which gave shape to the town we know today.
Excavationn of the new harbour basin enabled ships to discharge cargoes, the first of which was believed to have been timber for the Wendron mines brought in by Norwegian shipCharlotte Johanne in 1815. Six weeks later duty-free imported salt was being sold by auction in the cellars of the Porthleven Harbour Company.
Trade in the port often centred on the sale of wreck cargo, but attempts made to boost traffic into and out of the haven with carefully placed advertising in various journals. But the Porthleven Harbour Trading Company formed in 1816, floundered for lack of business only four years later and there was a long period things were looking bleak for the port.
In spite of several abortive attempts to enliven Porthleven as a port in the 1830's there was sufficient optimism during the 1850's for the local worthies to contemplate the formation of another trading company.The idea was to capitalised on the area's mineral wealth. With 24 working mines within 6 miles of Porthleven, it was felt there were bound to be opportunities for moving timber and coal through the port. The export of china clay and granite was also seen as having potential.
In 1855, the harbour was leased by Harvey's of Hayle who built an inner basin sealed by flood gates which gave refuge to vessels during inclement conditions. The result was an increase in trade from the Baltic, with Norwegian ships regular visitors.
Porthleven And Cornwall - Readers Write

© Neil Smith 4 Methleigh Parc, Porthleven TR13 9LJ
Website Design by Mole10 of Porthleven in Cornwall.