The Art Academy @ Lifeboat Art Studios
The Art Academy is running five great art courses the Lifeboat Art Studios in Porthleven between May and September 2011. Using the wonderfully situated studio as a base, each course offers an original programme of painting, drawing or sculpture, taking inspiration from the natural and man-made features of the area and its rich artistic heritage. Many of the courses feature trips to local landmarks and museum and gallery collections.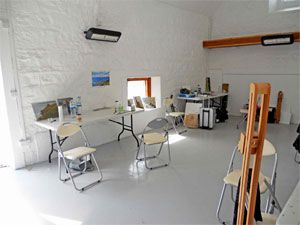 May 2nd - 6th
Landscape Painting Masterclass with James Hart Dyke A rare opportunity to study outdoor painting with one of the UK's best young landscape artists. June 27th - July 1st
Creative Painting
Working both on location and in the studio inspiration will be sought from the landscape, natural forms, man-made forms and the weather. The aim is to produce works that interpret these sources, as opposed to necessarily depicting them figuratively. July 25th - 29th
Creative Sculpture
Working both on location and in the studio participants will work with natural and man-made forms, using a variety of 'conventional' sculpture materials (clay, plaster, wire etc) as well as found objects and local materials. Some sessions will involve creating temporary pieces of land art on location.
September 5th - 9th
Drawing
A unique opportunity to work directly in and from the landscape of the Cornish coast in all its guises and to respond to the variety and power of its natural and man-made forms through drawing. As well as honing their skills of observation, participants will be encouraged to experiment with approaches, materials and media to create drawings which articulate their sense of and response to the landscape rather just seeking to reproduce it. September 12th - 16th
Painting
A week of painting under the expert guidance of tutor Chris Koning. For full details of all courses, go to www.artacademy.org.uk/cornwall-courses Participants can take advantage of a 10% discount on bookings made with our accommodation partners, Porthleven Holiday Cottages (conditions apply).